On Thursday we finally flew to London. Due to some unforeseen organizational last-minute problems with our ongoing renovation we were already late but we still got to the airport in time – only to learn that our plane was going to be delayed by 40 min. The boarding time was still the same (they even emphasized this point) so we rushed to the gate, only to find out that boarding would be 20ish minutes later than the original time.
Of course our kids were overjoyed to spend even more time in a place where they couldn't go anywhere (at least no without causing alarms). So we tried to distract them as good as possible ("Oh look, a bus, a plane, …") and finally a bus collected us to take us to the plane. Once we got there we saw that we did indeed get the most kid friendly plane there is (at least from the outside): An Europa Park themed A320 with a big mouse on the side. That sure made them forget the long wait at the gate (at least that's what we told ourselves).
Since we had booked our seats in advance we thought we could just walk in and get comfortable. But not today: For some reason unknown to us the system had let us reserve seats in front of an emergency exit, where kids under the age of 12 aren't allowed at all. No worries though, we got the row of seats just before the exit row and we even had more legroom (something we would've had to pay for had we booked these seats in advance).
Once we arrived in London everything went a little more smoothly. Our stroller had survived its stay in the cargo hold unharmed (unlike last time) and as we had already bought our Oyster card we could just hop on the underground to our hotel. The kids travel for free and adults only pay up to 6.8 pounds per day – so really cheap compared to other European cities (cough Stuttgart cough). The only drawback are the stairs. Not all stations have lifts so occasionally we have to carry the stroller up or down some stairs. Nothing we can't handle though 🙂 There's also a Heathrow Express Train but this would've only been 10ish minutes faster while being much more expensive.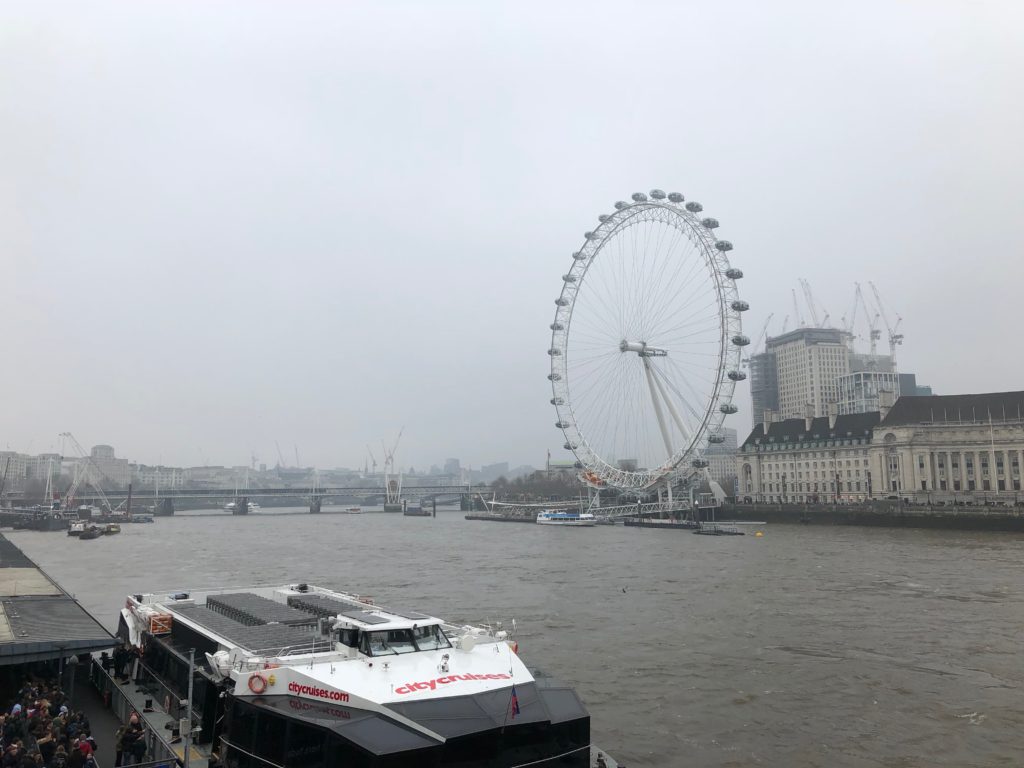 By quarter to five we had finally arrived at our hotel the PremierInn County Hall. The location is really good (right next to the London Eye) but it surely is not the nicest hotel there is. They do have family rooms though with enough space for two adults and two kids.
But we didn't want to stay there long as we wanted to meet up with Katie and Reza who we hadn't seen since our trip to the US last year. We met at our hotel and then we took the underground to a BrewDog pub in SoHo. Unfortunately the music was a bit loud there (or we are just getting old) but the food, beer and company more than made up for that.
After dinner our way parted and we checked out the area a little bit before we went back to the hotel to put our beyond-tired kids to bed. Truth be told, we were also quite tired after this eventful day. Big Ben is only a couple of minutes away from our hotel but unfortunately behind scaffolding for the next couple of years.