'Tis the season for Christmas markets, which is why we, together with friends from our church, decided to go on a quick trip to the Ravenna gorge in the Black Forest. It's a one and a half hour trip from Stuttgart, perfect for a Saturday afternoon. The area is also very well suited for hikes, but we only went there for the Christmas market. Those who know me know that I (Diana) love Christmas and all the songs, decorations and lights that go along with it. Therefore this market was basically made for me 🙂 For all those who want to follow in our steps and want to pay this special market a visit, here are a couple of tips:
The Christmas market takes place every year on every advent weekend. I would recommend to buy a parking ticket (there are two time slots available, early afternoon and later afternoon/night. Be warned, they sell out quickly). If you do not get a parking ticket you have to park further away and catch a shuttle bus – something to avoid if you have small kids with you and/or if the weather is anything like we experienced yesterday: rain, rain, and some more rain. If you have small kids and bring a stroller (like we did for Noam), be prepared to spend some effort wheeling the little one about. There is no asphalt, just a gravel road for which most strollers are not really made for. Plus the crowds also sometimes make it hard to get through. But all that did not dampen our mood – the atmosphere there was still very christmassy and we enjoyed every minute.
The bridge was illuminated from below, sometimes a train could be seen (much to the enjoyment of our sons :))
Even the river running through the gorge was decorated with lots of big and small lights, quite a sight!
Like every decent Christmas market, food and and crafts (some of them local) were everywhere. They even had a few camp fires where you could make campfire bread (or s'mores, if we had brought the necessary materials along – something to remember for our next visit). On our way back to the car we stopped by one of the world's largest cuckoo clocks: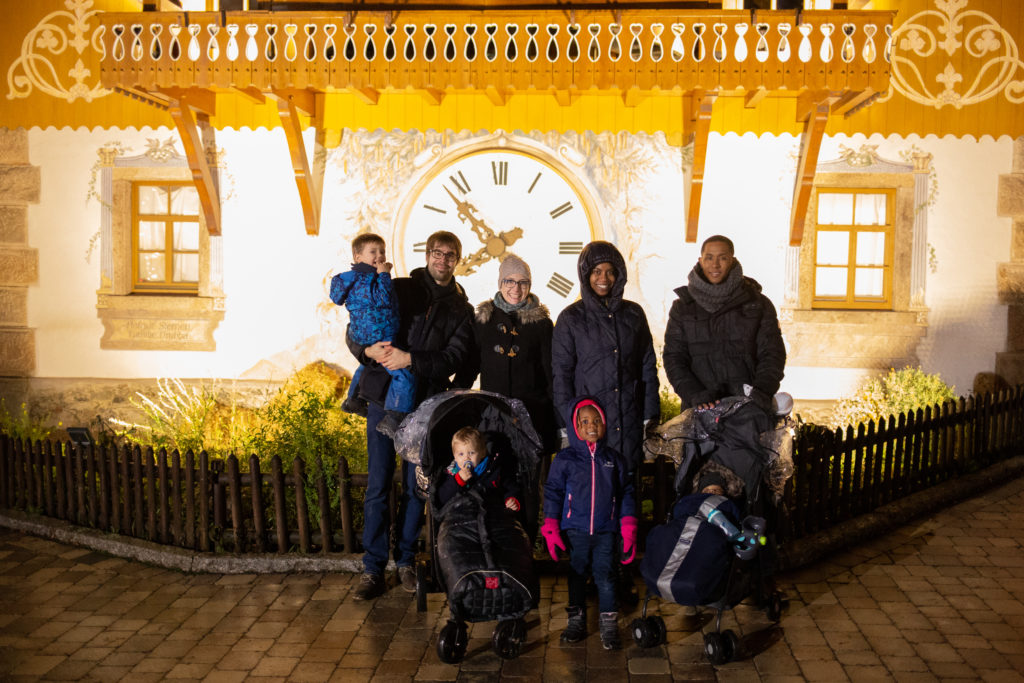 After all of that we were thoroughly drenched and really glad that we didn't have to wait for the shuttle – we just hopped in our car and drove right back home.